Browvo Conditioning Eyebrow Primer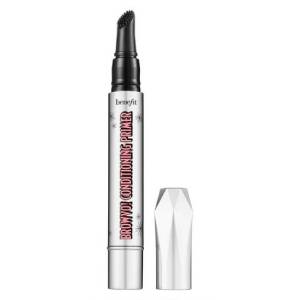 Benefit Cosmetics is a brand that is mostly known for its make-up products. When it comes to its brow line cosmetics, it doesn't only feature brow pencils but also volume boosting pomades and powders, and of course a conditioning eyebrow primer – Browvo. This is a combination of a conditioner and a primer, which unfortunately doesn't receive the highest rates from the consumers even though the other beauty products of the brand enjoy massive popularity.
There is this old saying: "A jack of all trades is master of none." And Browvo eyelash serum is a prime example of this. It neither works as a quality brow primer nor it's an effective brow serum. In terms of conditioning, all it does limits to replenishing brow hairs with water and leaving them glossy, yet it won't rather speed up brow growth or regenerate the hair spectacularly, especially if they are considerably damaged. Therefore, if we're looking forward to achieving fast results then Browvo conditioning eyebrow primer isn't the product to reach for.
However, the composition of this product doesn't look that bad. The serum contains keratin, panthenol, soy proteins, olive oil, jojoba oil and vitamin E. Sadly, the very ingredients are mixed with dehydrating alcohols and preservatives.
Definitely innovative is the brand's approach to the visual aspect of this product. To clarify, Benefit Browvo is a serum featuring an extraordinary, very wide applicator, which fairly big, cut-at-angle surface is covered with tiny bristle. From between the bristle emerges the perfectly dosed portion of the serum, and this considerably facilitates the application. Still, the very first attempt of putting the product on might be a little bit troublesome.
Price:
high, yet acceptable
Action:
delicately conditioning, it also shares the qualities of make-up primer
Application:
at the beginning it might be troublesome because of a very specific applicator
Composition:
features a few interesting conditioning substances