Realash Brow Eyebrow Conditioner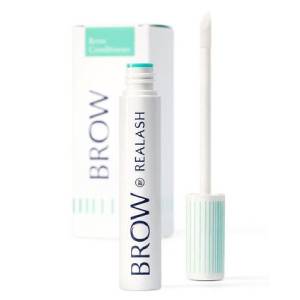 This reinforcing serum carrying a very simple name – Brow, is a work of Orphica brand that was inspired by nature and the achievements in the field of cosmetology (it used to be distributed under Realash label and is still more recognizable under the very name).
In terms of effects, Orphica Brow doesn't keep up with the competing products. This is a good eyebrow conditioner for those who don't demand much from a cosmetic. It serves well as an aid in daily brow care, yet you shouldn't expect it to stimulate brow growth or regenerate them. In other words, it's worth buying this cosmetic if we simply look for brow nourishment and moisturisation only.
Nevertheless, the price of Realash Brow might effectively put off because quite a sum must be paid for one tube of this eyebrow conditioner. Also, it's worth realising that it isn't an efficient product since it lasts 3 months only.
During this time, we can keep conditioning our brow hairs with strengthening peptides and plant extracts, e.g. ginseng extract that isn't the only interesting nourishing substance added to Brow's composition. The truth is, this Orphica's cosmetic features more similar ingredients but in significantly lower (trace) amounts, which makes their action less powerful than anticipated.
This minimalistic packaging, which some people associate with medications, houses a quite convenient applicator. If we manage to remember to apply Orphica Brow at bedtime, after removing make-up, we shouldn't have any problems with using the product.
Price:
definitely too high in comparison to the quality
Action:
reinforces brow hairs by conditioning and moisturising them from the inside
Application:
shouldn't be perceived as troublesome
Composition:
a combination of interesting substances with the redundant ones