RevitaBrow Advanced Eyebrow Serum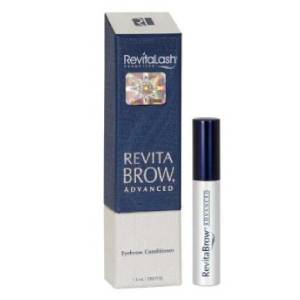 Another very popular among consumers is also RevitaBrow eyebrow serum. This advanced (as the name indicates) formula isn't the first product launched by brand therefore one can expect experience in this field form the producer. Indeed, RevitaBrow is an effective product of rich composition, although its action might not satisfy everybody's needs. This beauty product serves people having thin eyebrows which are 'barely-there,' but it won't regenerate severely damaged brows. The composition is what should be blamed for delivering such action.
RevitaBrow is a rich eyebrow serum that contains ginseng, green tea, honeysuckle, Calendula, wheat, etc. It might seem that the more plant extracts a particular cosmetic contains, the better. The truth is, nothing could be further from the truth. It turns out that too high concentration of plant extracts, which aren't combined in the right proportions, may work to our disadvantage. It's worth keeping this in mind if we want to reach for RevitaBrow.
This eyebrow serum is good at nourishing, replenishing brow hair with water and supporting the natural brow growth cycle. Sadly, the outcomes can't be described as spectacular and disappear when the treatment is discontinued. This means that the beauty product must be applied regularly. The truth is, it wouldn't be that problematic because the application itself is simple and the brush is convenient, however, the thing is that the serum is really expensive. If bought regularly, RevitaBrow might contribute to ruining our budget. The effects might not be worth this.
Price:
too high when compared to the effects it produces
Action:
conditions and reinforces brow hair really well
Application:
fast thanks to the convenient applicator
Composition:
a little bit too high concentration of plant extracts