Long 4 Lashes Eyelash Enhancing Serum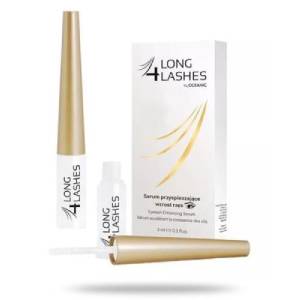 Oceanic brand has in its offer many serum-like products designed to take care of hair, lashes and brows. And this is Long 4 Lashes eyebrow enhancing serum in particular that is so willingly chosen by women. However, there are a few reasons why it didn't win a higher place in this ranking.
Long 4 Lashes is an effective eyebrow serum which significantly enhances condition of tiny brow hairs making them stronger and regenerated. Sadly, it works definitely better on healthier brows that don't require being exposed to strong action but need only delicate nourishment and moisturisation.
Furthermore, this product contains a brow hair stimulating substance which, in fact, engendered controversy. On one hand, it's a very effective cosmetic, but on the other it can cause irritations, especially in those people whose skin is delicate. For this product's advantage work other ingredients, which are considered as more useful and beneficial: moisturising hyaluronic acid, nourishing pro-vitamin B5 and soothing alanine.
There is nothing which might make the formula and application of Long 4 Lashes any different from the most popular products of this kind. Light, colourless and runny serum has to be put on cleansed and dry eyebrows using a slightly curved applicator. This procedure doesn't take much time.
The serum isn't expensive and this reflects the way in which Long 4 Lashes works as well as the quality of ingredients used, and even the packaging.
Price:
very attractive price but it reflects the product's low quality
Action:
nourishes, moisturises, reinforces, conditions brow hairs
Application:
regular and fast owing to the well-shaped applicator
Composition:
features a controversial brow hair growth stimulating substances