Posh Brow Eyebrow Growth Serum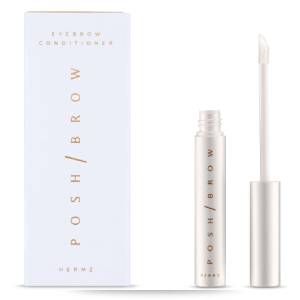 Definitely, this is a very interesting product that belongs to the medium priced products group, however, it hasn't managed to win as widespread popularity as its competition. The reason for this might be the minimalistic design which may imply equally minimalistic action delivered by the beauty product.
However, Posh Brow eyebrow growth serum is a really well-composed cosmetic. It bases its action on two blends – peptides and amino acids, enriched with regular nourishing substances, which are among others hyaluronic acid, panthenol and a few plant extracts. Nevertheless, the composition of Posh Brow isn't completely natural because this eyebrow serum also contains preservatives and stabilizers.
Still, this is an eyebrow serum that takes care, moisturises and prevents brow hair loss as well as it supports brow extension. Sadly, the more damaged eyebrows, the more difficult it's to restore their pretty look.
How to apply Posh Brow eyebrow serum? It goes with a regular, soft applicator, so using the product shouldn't be perceived as troublesome. However, you must be cautious enough not to let the cosmetic get into the eyes, and this task is impeded by the fairly runny consistency.
The good side of Posh Brow is its bigger than a regular eyebrow serum size. As it turns out, this advantage is rather deceptive because due to the product's formula, the single dose must be distributed along brow ridges twice; and this doesn't mean that you can use the cosmetic for longer because of its bigger capacity. In other words, Posh Brow can't be described as efficient.
Price:
average, adequate to the effects
Action:
it conditions and reinforces brows well
Application:
impeded due to the runny consistency of the product
Composition:
isn't natural, yet features advanced blends